JYJ's $3.2 million fan service!!!
Popular idol group JYJ members Kim Junsu and Kim Jaejoong attended the opening event for the fan fair 'JYJ Membership Week'at the SETEC in Daechi-dong, Seoul on June 28th. JYJ member Park Yoochun was not able to attend the event due to an eye infection.
Some 3,700,000,000 KRW (about $3.2 million at press time) have been invested into the 'JYJ Membership Week' taking place in 3 exhibit halls of about 3,000 pyong in size (about 107,000 sq ft). There are holograms of the JYJ members, the stage outfits and personal items of the members, screen tunnels and more, truly plenty of experiences prepared for the fans.
Kim Junsu and Kim Jaejoong appeared very happy to provide the event for the fans and the excitement could really be felt in the atmosphere. There were many fans from overseas as well as Korea and some of the Japanese fans could be seen in the crowd in particular.
JYJ truly seem to be a group that strives to stay connected to the fans as made evident through their efforts and the fans are all the more appreciative of their favorite stars for it.
Credit: KpopFever
JYJ and Agency Receives Zero Profit From Its JYJ Member Expo
JYJ revealed how much profit it will make from its JYJ fan expo.
With over 20,000 fans taking part in JYJ's four-day long fan-oriented expo, many would have thought the trio and its agency would be making big bucks, but the agency revealed zero profit will be made from the expo.
JYJ's '2012 JYJ Membership Week' kicked off on June 28 at Seoul's EC with some 15,000 Korean and 7,024 Japanese fans attending.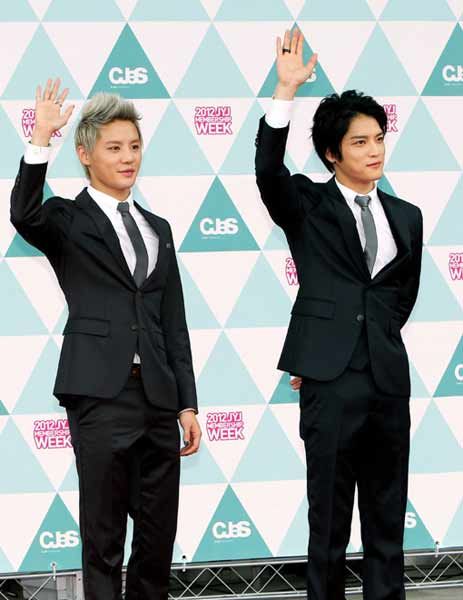 For the four-day long festivities, about 3.7 billion won was invested in by JYJ and its agency but has foregone any profits as C-Jes' head, Baek Chang Joo revealed, "We eliminated the commercial aspect. Though we won't get any profits right away we think of the money put in as an investment."
He added, "If we were thinking about profits, this event would have not even entered our minds. But it's not an event we created in the expectations of receiving anything. This is purely a 'fan service' that we thought of six months ago to return all the love JYJ has received so far."
The expo will last until July 1 and includes fan meetings with JYJ's members, chat session, photo exhibition and more.
Credit: enewsworld
'2012 JYJ Membership Week' to be held annually
On June 28, President at C-JeS Entertainment Baek Chang-joo stated at the "2012 JYJ Membership Week" that the 3.7 billion won event would be held annually.
"This kind of long-term investment will help increase fan loyalty and JYJ's brand value. The content targeting Korean Wave fans needs to be diversified, breaking from the current performance-centered form. It should no more be compulsory service and become opportunities to truly communicate with fans," said the president at the JYJ's agency.